Improving Customer Experience (CX)
I teach staff the skills of soft skills and quality customer service:
shop, salon, clinic, restaurant, hotel, B2C / B2B
Trainings: service, soft skills, management, communication, soft sell
Organizational coaching, facilitation and strategic sessions
Develop Customer Service Standards and Scripts
I create distance learning courses and training chatbots
---
Service and soft skills trainer, organizational coach, facilitator.
Distance Learning Specialist, Visiting TV Expert.
Experience in training in service, soft skills, management since 2009, personal experience in service and sales since 2003.
More than 96% of satisfied customers and participants of trainings, 70% of repeated appeals on the topics of service, sales and management.
Базові теми тренінгів

Сервіс, покращення CX, робота з Клієнтом
Soft skills: мислення, EQ, комунікація
Менеджмент, лідерство
Soft sell, Клієнторієнтовані продажі
Робота з запереченнями та претензіями Клієнтів

Обговорити навчання персоналу

+38 O67 963 9OOO

---
---
Collaborate with Companies
Bella Donna, Arsenal Center, Mamamia, Elika, E-Cosmetology, Forum Group, Cursor, Danko, Convergys, Heinemann Duty Free, Audi Center Odessa South, Ukrposhta, Ukrtelecom, AREC, Avon, Univest Media, STB, TRK Ukraine, Biblio Globus , ALS TOUR, PepsiCo, UCKS, Nadiya TV, Mokko, Avalon, Lumenis, Volia, Ukrlandfarming, Kyivstar, Delo.ua, SGroup, JCI, Venbest, GK AIS, Zhivoe Delo, EtiketiKo, Porsche Finance Group, AM-SOFT, EuroEx , State Employment Service, Business Territory, IQ Holding, Image Partner, Business People Ukraine, MEGA TV, CashFlow Club, Live Source, Terrapoint, Probook, Akim Studio, agricultural complex "Kalita", H-aRt, Knifeshop, Intelligence Service, Olvita, Smart Personal, Euroset , Pantagruel, Headquarters, Fortress, Lancelot, Calette and others.
---
Projects in areas
HoReCa, restaurant and hotel business, hospitality industry, tourism, beauty industry
Network retail, fashion-retail, FMCG, B2C retail, B2B corporate sales
IT, e-commerce, telecommunications, communications
Automotive, logistics, manufacturing, real estate, printing
---
Training units
Employees of shops, restaurants, entertainment centers, hotels, salons, clinics
Sales and Customer Service
Call centers, support services, service, technical and information support
---
CAs, participants
Retailers and online stores, sales consultants, sales managers
Hostess, reception managers, waiters, bartenders, baristas
Medical workers, masters of cosmetology
Call-center, delivery, supportoperators
Couriers, masters-receivers, economic and technical staff
Administrators, line managers, unit, middle, top managers
Professional competencies
Definition of performance gaps, staff training needs analysis
Development and conduct of trainings, blended-, micro-, product learning
Implementation of e-learning, development of LMS, creation of distance learning system for staff
Creating distance learning courses, training chatbots, knowledge base
Development of storyboards, presentation and methodical materials
Analysis of the effectiveness of the training
Building and launching a Staff Training and Adaptation System
Coordination of the work of the department of education / corporate university / training center
Staff adaptation, onboarding training, welcome trainings, mentoring
Performing a performance review
Building R&D / individual development plans
Conducting strategic and facilitation sessions
Moderation of working groups, business games
Group and individual coaching
Formalize and consolidate workflows
Development of Customer Service Standards and Scripts
Project Management
Service and sales in B2C / B2B segments
---
Customer Feedback
Discuss corporate staff training
Order individual coaching
Ask a question to the coach
---
Vocational education
Certified Business Trainer, Academy of Business Training, TC "BTG"
Certified Coach, Integral Coaching School, Living Business CG
Certified specialist in NLP, NLP practitioners, TC "Solutions and Prospects"
Certified Personnel Manager, HRM Course, Smart Personal Agency
Certified teacher-psychologist, National Pedagogical University. MP Dragomanova
Graduate of the Emotional Leadership Development Program "Leadership Program", Solutions and Prospects Shopping Center
More than 50 other trainings and seminars


---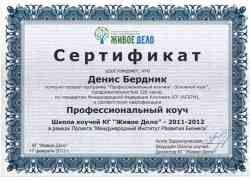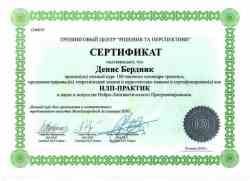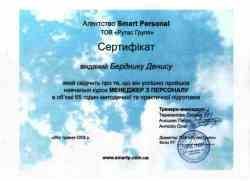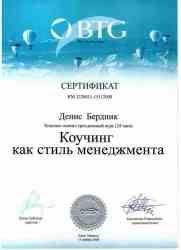 ---
Order training / coaching:
+38 О67 963 9О OO
YouTube
Facebook
Telegram
Instagram